Cordless Lamp
Victoria CVCPUBR Cordless Lamp
Neoz
In stock
00213769
This slim, refined cordless lamp provides direct downlight and soft diffused sidelight. Available in two distinctive body finishes and handmade lampshades.Hot forged from a single ingot of raw brass, the Victoria cordless lamp is CNC machined, polished and lacquered for long-lasting, deep lustre.The 'Aged Brass' is achieved by applying a proprietary rapid chemical aging process to a Brass body. The result is an authentic 'living' finish where the surface will continue to evolve as you use the lamp.

Neoz Lighting Victoria CVCPUBR Cordless Lamp, 120w x 120d x 275h mm, Frame Solid Brass, Shade Pleated Silk Integrated LED 2600K, IP 30 , 65 lm
Brand: Neoz
Brand Origin: Australia
Collection: Victoria
Designer:
Designer Year:
Cololur:
Finish:
Remarks:
SKU: 00213769
Dimension: 120w x 120d x 275h mm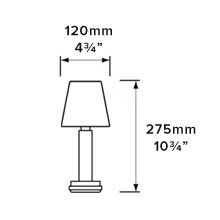 ...