Cordless Lamp
Cooee 2 CCO2UAB Cordless Lamp
Neoz
In stock
00213771
A slim metal bodied cordless table lamp featuring an enclosed cylindrical diffuser giving maximum direct downlight without glare. Ideal for unobtrusive table lighting and for rooms with views through glass as there are minimal reflections. The Cooee 2 has an opal diffuser and top plate providing soft ambient side and downlight. Available in solid Brass, solid Copper and anodised Aluminium.

Neoz Lighting Cooee 2 CCO2UAB Cordless Lamp, 90w x 90d x 210h mm, Frame Satin Bronze, Shade Integrated LED 2600K, IP 52 , 95 lm, with UK plug
Brand: Neoz
Brand Origin: Australia
Collection: Cooee 2
Designer:
Designer Year:
Cololur:
Finish:
Remarks:
SKU: 00213771
Dimension: 90w x 90d x 210h mm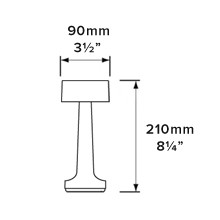 ...